VW Radio RCD 210
Directly to the compatible products
---
Do you have a VW Volkswagen radio RCD 210? With us you can retrofit Bluetooth adapters, hands-free kits and much more.
For this radio you can get retrofits with the following functions from us:
 Stream Music by Bluetooth
 Streaming from streaming provider possible (Deezer, Spotify, Apple Music, Amazon Music, Tidal, and many more)
 Bluetooth hands-free function / speakerphone
 Listen to music from the USB stick
 AUX Connection
 Charging function for your Smartphone
 Fast charging function for your Smartphone
 Advanced Noise Reduction - exklusiv
 Free Losses Audio Codec - FLAC
 Radio and multifunction steering wheel control
This factory-installed radio is model VW Volkswagen radio RCD 210 is fastened with screws. TORX T20 screws are usually used as screws. The screws are located under panels which can be removed quickly and without damage using the tools offered in our shop.
A Quadlock slot is used. The slot for the Streaming Box is the slot for the external CD changer. He is shown in the last photo.
Some radio models do not use the large slot that is suitable for the white plug of the steaming box, but a smaller one. Our streaming boxes are equipped for both connector variants. In the case of the smaller slot, you can use the smaller black connector that is surrounded by the larger white connector. Everything is described in detail in the instructions, so that assembly is very easy.
Special features of this radio model: All models with a blue backlight are compatible. See above.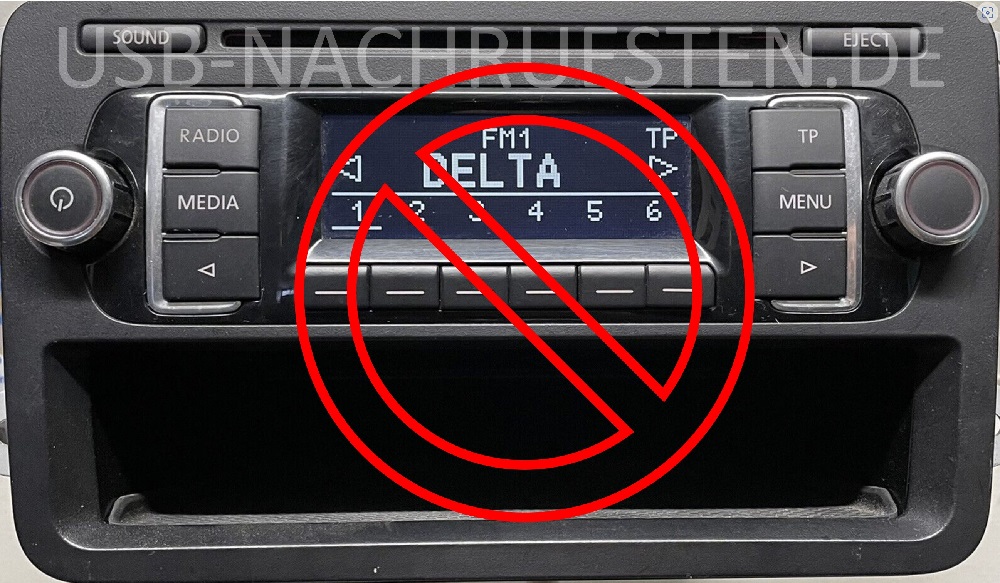 There is no compatibility with a black display background.
This radio was installed in the following vehicles, among others:
VW Golf 5
VW Golf 6
VW Golf Plus
VW Touran 1T
VW Touran GP
VW Passat 3C
VW EOS
VW T5
VW Polo 6R
VW Caddy
Seat Leon 1P
and many more
---
You can find the compatible products here:
---
---
---